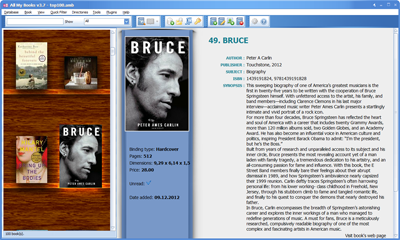 If you love books as much as we love books at Brilliant Corners, you probably have a vast number of books on a wide range of topics. I personally have several hundred books (at least) and it can make it hard to keep track of them all – especially if, like my, you trade your books with friends and book club members on a regular basis. With the constant ebb and flow of books, it can make it hard to get a firm handle on which books you actually have at any given moment – not to mention keeping track of all the information about each book!
All My books is a fun cataloging software that makes it easy for you to organize your collection. with just a little bit of work, you'll create a fluid and easily readable and manageable database that will be with you for the life of the collection. Just enter any key piece of information (book title, Author, of ISBN) and the software automatically fills in the rest for you, allowing you to quickly and easily create a list that you can share with friends or on any online book site. As you get books, you can just add them in, and remove them as soon as you give them away! Never again will you be stuck holding your otngue because, say, your friend wants a copy of Maya Angelou's works, but you can't for the life of you remember if you *still* have a copy of I Know Why The Caged Bird Sings hanging around, or if you had given it to another student in need.
Definitely try out All My Books – not only is it fast, fun, and so easy to use, it's also free! There's nothing to lose, and you'll see that there's so much to gain from having an organized collection.